Release notes
Filter and view release notes relevant to you. Visit our ideas portal for feature requests, a private forum designed as an interactive space where our clients can post ideas, vote on other ideas and receive feedback from the INX Software product team.
26 Apr 2022
New kiosk application and customise the sign-in pathways for each type of visitor
Available from 27 April 2022
We are very excited to announce this product release which introduces a major update for the INX Sitepass visitor management solution.
INX Sitepass has been providing our customers with transparency they need regarding their contractors, staff, and visitors' movements across their sites. This has made INX Sitepass an invaluable tool for our customers to manage the safety and compliance of their entire workforce. As part of this release, we are introducing a range of updates that provide more control for our customers to personalise the visitor sign in and out experience for each of their locations.
Our knowledgebase contains the latest user guide articles and a detailed list of all updates released.
New features
New kiosk application
We have rebuilt from the ground up a brand-new Kiosk tablet application (IOS). The new application includes your corporate branding, intuitive layout to make it simple for visitors to sign in, and the ability to include custom forms which can be tailored for each type of visitor and when they sign in and out of site.
Visitors can sign in by scanning their INX Sitepass ID card or by entering their credentials and the sign in experience is unique to each individual and their role, capturing the necessary information needed when signing into site.
The new kiosk application includes a range of new features such as automatic updates, passcode protected settings, simple printer setup, and ability view and manage all connected devices.
The new Kiosk application will be available to downloaded from the Apple app store on the 27th of April 2022.

Configure customised sign in and out pathways for each type of visitor
Not all visitors (guests, team members or contractors) are the same, and INX Sitepass now allows you to customise the sign in and out pathways for each type of visitor. Decide which visitors are allowed to sign in, required to take a profile photo, select a host, and the forms they need to complete before they enter the site.

Kiosk and QR code offer the same experience
The sign in and out experience for your visitors is now the same if you sign in by the QR Code or Kiosk. In this release we have redesigned the QR code to include your corporate branding, capture profile photos of visitors and updated messages that detail the reasons why an individual is unable to sign in.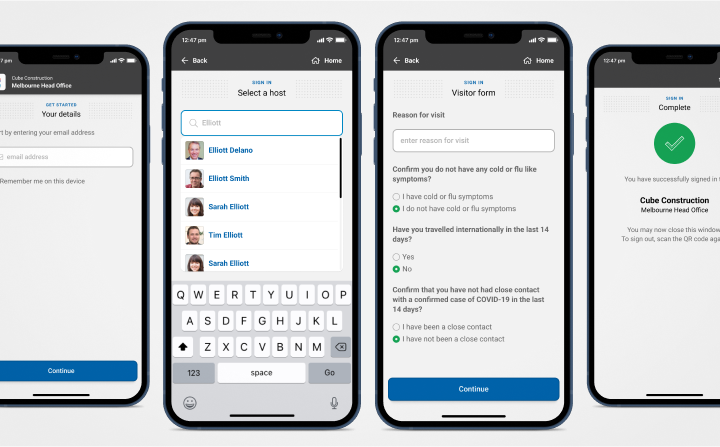 Auto sign out by Geofence
Signing into site by scanning the QR code can be configured to require specific types of visitors to be within the Geofence. Auto sign out by Geofence is now supported by INX Sitepass, which will automatically sign out a visitor when they exist the Geofence radius, giving you an accurate report on who is currently on site.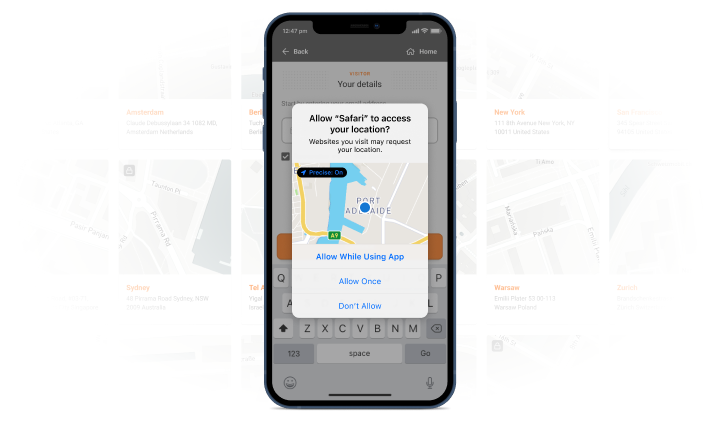 Centralised visitor management configuration for all sites
Setting up you visitor management system is now even easier, especially if you have many sites. The new centralised configuration allows you to create saved preset's that define your requirements for how someone can access one or multiple sites. The presets include options to define daily access times, conditions of entry, host selection and approval, sign in and out forms and options to set the auto sign out rules.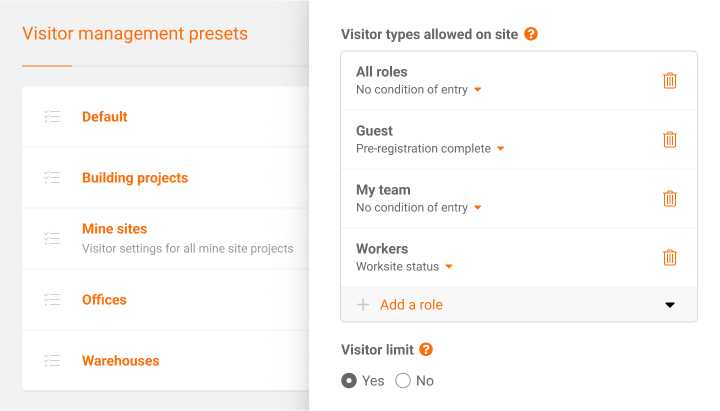 Define who are your hosts, how they are notified and if they are required to approve access
Hosts can now be defined, either they are individuals, grouped by a role or all team members and hosts can be different for each site. When visitors select a host, the host can be notified by email or SMS, and given authorisation to approve or decline visitors enter your sites.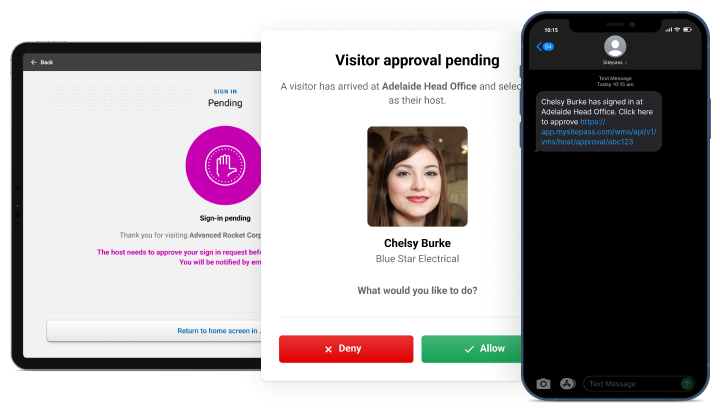 Detailed access permitted messages
Access to sign in at site can be restricted and require only selected visitors to sign in or be preregistered and inducted before they can enter. Access permitted messages on the QR code and Kiosk have been redesigned to include more information that clearly list the reasons they have not been permitted to sign in.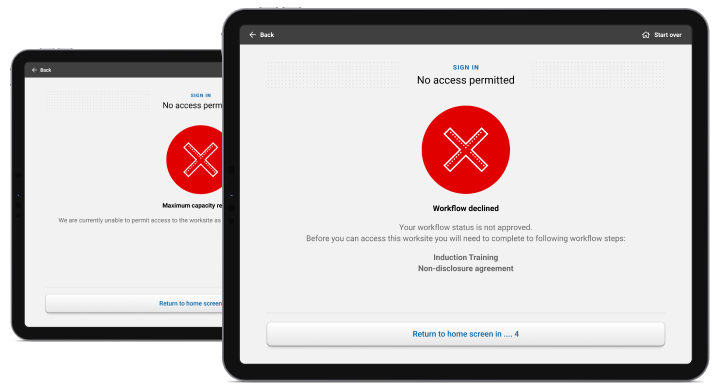 Back to list